| | |
| --- | --- |
| | |
Legal Library

This Legal Library contains the main legal documents regulating the work of the Tribunal, as well as databases and key reports.
ICTY Court Records
Online database of the Tribunal's case documents. With all public filings from 1994 up to today, this fully searchable tool contains more than 190,000 records, ranging from arrest warrants, motions, exhibits, through to the final appeal judgement in every case heard at the Tribunal.
http://icr.icty.org
Reports and Publications
Annual Reports are submitted to the UN Security Council and the UN General Assembly
Completion Strategy Reports are submitted twice a year to the UN Security Council
All ICTY Publications: Manual on Developed Practices, Manual on International Criminal Defence, Annual Outreach Report, and more.


Statute of the Tribunal
The Tribunal was established by United Nations resolution 827 of 25 May 1993 which contained the Tribunal's Statute. Defining the jurisdiction, organisation and functioning of the Tribunal, the Statute is a core document of the organisation. This section includes the original Statute, as well as subsequent resolutions in which refinements were introduced.
Rules of Procedure and Evidence
The rules governing the conduct of proceedings before the Tribunal were drafted by Tribunal judges elected by the United Nations General Assembly. The rules are regularly updated in order to safeguard both fair and expedient trials.
Member States Cooperation
Every UN member state has certain obligations towards the Tribunal, most notably to cooperate unconditionally and to comply with requests for assistance and orders of the Tribunal. This includes the passing of legislation to enable States to effectively cooperate with the Tribunal and the enforcement of sentences imposed by the Tribunal.


Defence
The rules governing defence at the Tribunal.

Detention
The rules governing the operation of the UN Detention Unit, including those regulations established to ensure the continued application and protection of the detainees' rights while in detention.


Practice Directions
Policies defining certain practical aspects of judicial proceedings and other legal procedures related to the Tribunal's work


International Legal Assistance
Submissions of Requests for Assistance to the ICTY
Appeals Chamber Case Law (July 2004 - onwards)
Summaries of the Appeals Chamber decisions and judgements issued since July 2004.


Judicial Supplement
(Feb.1999 - Aug.2004)
S

ummaries of the significant decisions, orders and judgements issued

between February 1999 and August 2004.

Miscellaneous
A variety of rules and regulations relating to the Tribunal's operation.


United Nations Rule of Law Website and Document Repository - www.unrol.org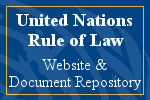 UNROL is a promotional and educational tool for practitioners and the general public.
It seeks to inform users about the UN's work in the field of rule of law, and its efforts to coordinate and strengthen system-wide approaches in this field.

International Criminal Law and Practice: Training Materials
As part of the War Crimes Justice Project, training materials were developed by International Criminal Law Services (ICLS), an independent organisation of experts in international criminal law and related humanitarian law.